THE LAW FIRM OF ENTREPRENEURS
Are you an entrepreneur and do you need advice for your project or company?
Are you looking to open your own business but do not know how to do it? Do not worry, our startup lawyers will be able to give you all the help you need.
We all know that setting up your own business can be difficult. There are many elements factors that you must take into account and many obstacles to overcome. In fact, you need a high level of participation, effort, will and work to achieve success. However, creating something of your own is totally gratifying and satisfying.
At Delvy, we have a multidisciplinary team with more than 10 years of experience in company creation in Spain. We offer a personalized and comprehensive service that includes all the necessary tasks for a company who wants to start its activity in our country.
In addition, we support the entrepreneurial initiative to the fullest; because of this, we offer all our resources to entrepreneurs so they can find the assistance they need to be able to carry out their project in the right way.
We have a staff of startup lawyers and economists who are highly qualified to provide you with a very professional service, achieving competent and compelling solutions for each case. Likewise, the work we do is based on a perfect combination: experience and innovation.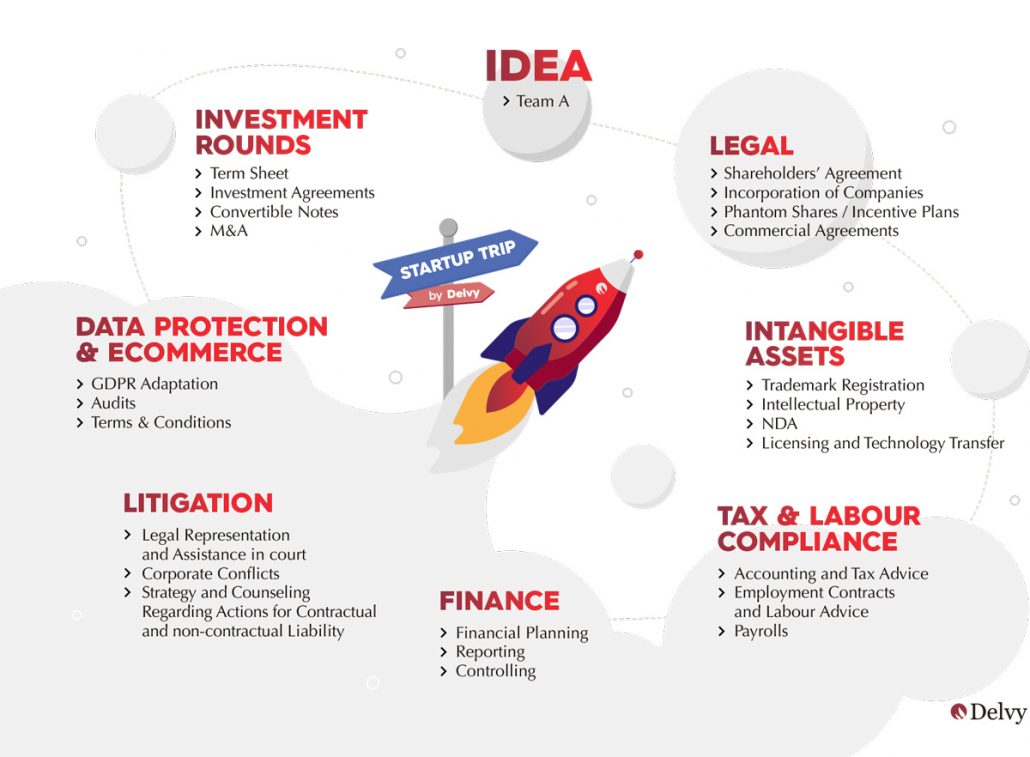 What Legal Services FROM STARTUP LAWYERS could a Startup need?
Our startup lawyers advise your team to be able to structure their relationships through partner agreements, to guide them in choosing the best legal form for their project and in the registration of the company.
We recommend and emphasize the importance of protecting the intellectual property of your company through the corresponding Trademark Registry. The above generates the following benefits:
Protect the company from the use of third parties who want to copy or reproduce it to generate income

Increase the commercial value of the enterprise and give it a more serious image

Allow easier access to loans with better interests and benefits

Be an additional source of income since if someone wants to use your name or idea, they must pay for it
What will our entrepreneur lawyers provide to your innovative business?
In Delvy, our entrepreneur lawyers will provide advice in relation to the daily activity of the company, including drafting of all types of commercial agreements, protection of intangible data in the fields of intellectual property, industrial property and image rights , e-commerce regulations, everything related to accounting areas, declarations and taxes for workers and liquidations corresponding to other taxes and labor management.
The firm is focused on providing complete services; for this reason, our startup lawyers can advise you on financing issues such as:
Guidance in the search for funding

Investment agreement with Business Angels or Venture Capitals
What is our main objective for our entrepreneur and startup lawyers?
Our main objective is for our entrepreneur lawyers to provide you with the legal security you need and to accompany you throughout the process of creating your company. We are known for offering a unique and personalized treatment, acting as internal members of the team, not as external consultants.
In Delvy we work with quality, closeness and responsibility, managing a direct deal with each client, since it is essential to achieve the maximum satisfaction of a job well done.
Contact Delvy
If you need to make any type of consultation or request information, do not hesitate to contact our team of startup lawyers specialized in entrepreneurs through the following form and we will contact you quickly.
In Delvy we have several packs for startups and entrepreneurs. You can send us an email for more information about them to [email protected] or call 935 18 53 85.